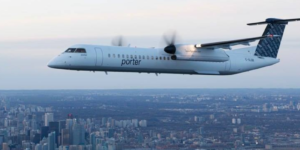 After my two-part nightmare about Air Transat, I figured maybe I owed you an account of some good experiences I had with a couple of  airlines. Because even though the whole point of flying it really just to get from Point A to Point B, kind of like the job of a custom crane repair service you can certainly do it more comfortably and less crazily than I did that time with Air Transat. Travelling is one of the best things you can do in your life, so why not make the journey a positive part of the experience?
Porter Airlines
I really can't say enough about how much I like flying with Porter. This might have something to do with the first experience I had with them, flying to Newark from Billy Bishop. I had arrived pretty early for my flight, because I'm one of those people, and the airline employees noticed that there was room on an earlier flight, and that I could switch to the earlier one if I wanted. So that alone was fantastic, because it meant less waiting. That said, the wait wasn't bad at all, thanks to the very awesome lounge Porter provides for its passengers. And that's not just at Pearson, either; Porter has a great lounge at the Newark airport, too. Which leads me to believe that Porter just has great lounges.
The lounges have free drinks and snacks, nice comfy chairs, and access to free wifi and electrical outlets. Which in itself it a huge win. And then you get on the plane, and there are more snacks there! Even though the flights I've taken with Porter have only been an hour or two, I've still always been given a choice of a little snack and a drink. And the flights are pretty reasonable, considering they give you wine on board. And the staff is friendly and polite, and a lot of the time, because the flights are so frequent, the flights aren't even full. So long story short, really recommend Porter.
WOW Air
WOW Air is pretty much only good if you're flying to Iceland. I'm not sure they fly anywhere else. You definitely have to go through Iceland, even if you're flying to Europe. Anyway, WOW Air is very, very inexpensive compared to the alternatives. Now, that said, ye be warned about the very strict baggage policy. I could only bring 5 pounds of luggage, total, when I flew with them to Iceland. 5 pounds. That's it. Total. And I read so many reviews about how people were charged for extra luggage etc etc, but honestly, people, read the fine print! I have no sympathy for people who don't read the policy, and then complain about the policy. And there were other people complaining about the lack of free snacks and water on the flight. Well, you're saving like 400 dollars on the ticket, so many you can spare 18 dollars in the airport for a drink and a snack. Honestly, people. Never satisfied.